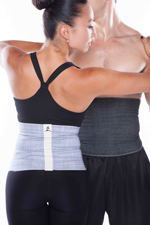 We're bringing this Russian training band to athletes across the U.S. for the very first time!  Originally used to relieve back arthritis in adults, the band started finding its way to training centers across Russia. Dancers and gymnasts discovered the benefits of the Band and incorporated it into their regular training routine.
After watching a rhythmic gymnast in her daughter's gym wearing a similar band, Elite SportZ band founder, Kari Smith was intrigued and tried to track one down for her kids.
Kari found out that the back warmer was a gift sent by the rhythmic gymnast's Russian grandmother. Not only was the band not available in the US, but Kari also discovered it was only available in adult sizes. After some hard work locating the manufacturer in Latvia and meticulous product retooling for state-of-the-art athletic compression, the Elite SportZ Band was created to benefit even the youngest of athletes.
Safety is a concern for most athletes, parents and coaches, but wearing Elite SportZ Band also enhances performance, The Band improves activation of core abdominal muscles and reduces spinal impact, providng uniform compression without compromising flexibility. Elite SportZ Band can be worn over or under clothing. There are no hooks, Velcro or plastic inserts to impair mobility. The Elite SportZ Band stays firmly in place even during the most vigorous workouts.
As people who have tried the band often say, "It just works."